Isoflex AB is the original manufacturer of the passenger rail coach and translucent window insulation material "Moniflex". Company headquarters and manufacturing facilities are located at Gustafs some 220 km north of Stockholm.
We aim to be, not only suppliers of insulation materials, but also the foremost rail coach specialists in Europe. We can recommend the best methods and equipment to help our customers optimize material use and production time. Our specialists often participate in pre-production test installations to verify methods, materials and equipment.
History
The company Isoflex AB was founded in Sweden in 1949. However, the product was developed as early as in the mid of the 1930s as a new Swedish invention within the insulation area. One of its first patents was regarding "Heat insulation according to the multi-layer principle".
Already in the mid 1930´s the material was used for insulation of rail vehicles, busses and buildings. It was its remarkable abilities for condensation management in combination with good thermal insulation which spearheaded the success.
Today the product has been further developed but one of the most important benefits is still Moniflex´s unique capacity to handle condensation without loosing its high insulation ability.
75+ years later, we still deliver our products as insulation for railway coaches and translucent insulation.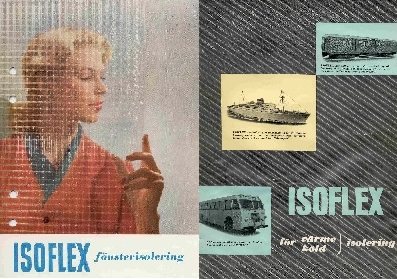 Company vision
Isoflex is one of the worlds leading insulation companies when it comes to light insulation, condensation management, environmental friendliness and energy savings.
Our success factors are:
We meet our customers total need for insulation

We maintain good production planning and honour all delivery commitments

We strive to maintain excellent relations with customers and suppliers

We work together with active Agents and Partners who share our vision